WideSpot Gift Certificates!
ADMIT ONE gift certificates are fun to get and give because, unlike socks, they never wear out. They're usable this year, or the next year, or the next year. $15 Each, they can be used for entrance to any show, even when the ticket price is higher than $15.  That's our way of showing our appreciation for your patronage.
WideSpot FiveSpot certificates come in denominations of $5. Give one or two or five or SIXTY! Usable for show admission, WideSpot collector mugs (crafted by Deneen Pottery), or drinks at the bar. The bright orange gift envelope will light up any occasion! You can purchase FiveSpots at any event. Need to order them? Call (715) 307-8941 or email us at widespotarts@gmail.com. We'll take your order and get a package in the mail right away!
Signature "Deneen Pottery" Collector Mug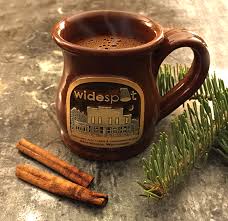 Deneen Pottery has created collector mugs for businesses and institutions up and down (and around!) the Great River. Generously donated by Peter and Mary Deneen, WideSpot's signature mugs add warmth to any gift-giving occasion AND help us to ensure the continuous great programming that you've come to love!
Each $10 mug is boxed and can be tastefully gift-wrapped. They can be purchased at the WideSpot box office, at the bar during an event, or we can ship it! These mugs make an excellent Thank You gift. Call (715) 307-8941 or email widespotarts@gmail.com to place your order with a credit card and we'll send it out to any location of your choice.*
* Shipping costs are additional and vary based on location.